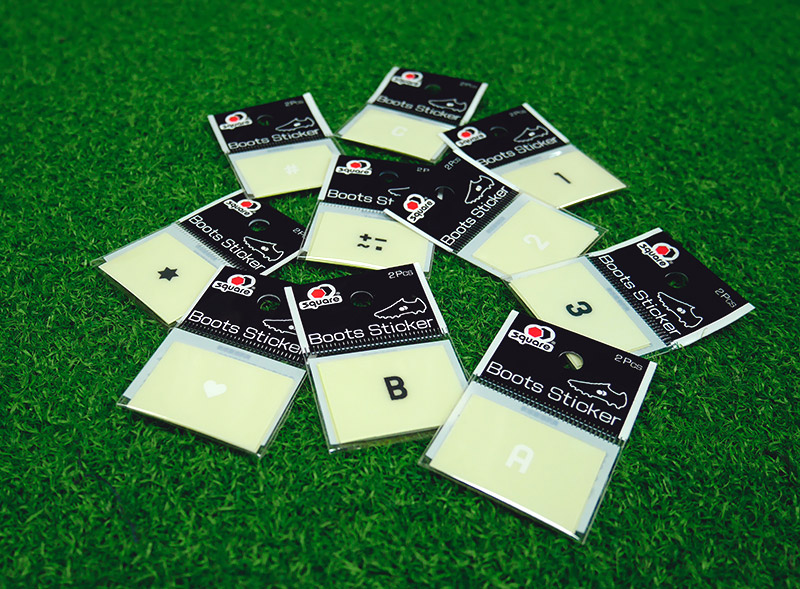 SQUARE focuses on development of football equipment.

The launch of "BOOTS STICKERS", brought you an idea of identity and transformed into a small sticker. You can make any combinations by using these stickers and simply stick on your boots, sneakers, running shoeses, baggages or even cell phone cases as a personization.

There are two main colours, Black and White. Both colours contain Number (from 0 to 9) Letter (from A to Z), and different kinds of symbols. Now available in Hong Kong and Macau store. Overseas customers can purchase boots stickers from our online store. For enquires, please contact us by email.
Price : HKD29/pack (2 pcs in one pack)
- Manufactured in Japan
- High quality design (Water-proof)
- Prevent from scratches
- Long-lasting
- Shiny substance applied on the sticker surface, effective under shaded area
Apply Method
Step 1) Select the letter, number or symbol that you want to stick on your boots.

Step 2)

Each pack contains 2 pieces of same letter, number or symbol. Take away the bottom yellow sheet before application.

Step 3)

Simply place on the area where you want to apply the stickers.

Final Step)

Press and hold firmly for few seconds and peel off the plastic sheet slowly. Done !
Remarks : Please note that boots stickers cannot be applied on flock surface. For further enquiries, please contact us.